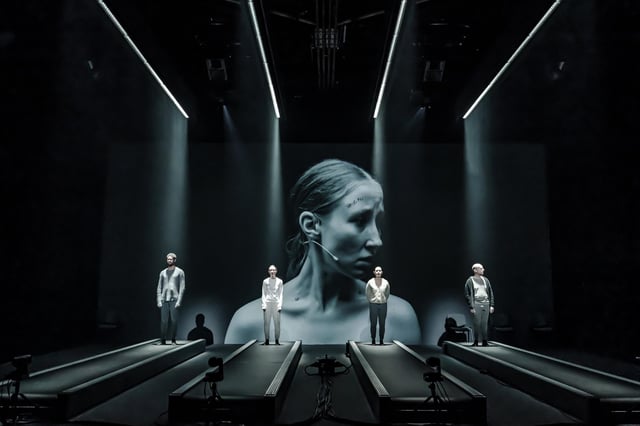 The company in Crave at Chichester Festival Theatre, November 2020. Picture by Marc Brenner
Because it is the first time I have reviewed a show that will soon be performed without a live audience, and where what is going on in the foyer is even worth mentioning.
Crave was meant to be the closing show of the Festival Theatre's summer season – but due to the first lockdown, it has instead become the inaugural production in the theatre's post-Covid era.At least it was meant to be.
With the second lockdown imminent, part of the run will now be performed behind closed doors and broadcast to patrons via a web link.
Crave at CFT. Picture by Marc Brenner
Before I start the review proper, I should mention the Covid measures – even though these will be redundant for at least a month now from Thursday. There are different entrances depending on which door it says on your tickets, and these are digitised. Seats are spaced out and at the end of the show, staff members allow you to leave row by row to avoid crowding. Hats off to the team for their kindness and patience.
Sarah Kane's experimental 1998 work has been packed into a trim 50-minute show with no interval, and it packs a punch.
There is next to no plot to speak of: four characters spouting streams of consciousness which flow in and out of each other and reference incest, rape, paedophilia and suicide.
So not exactly a cheery bit of escapism; in fact, the themes of mental deterioration and the play's lack of conventional progression reflects our lockdown lives.
The production values hammered this home. Each actor, dressed in loungewear, spent the performance walking on treadmills two metres apart from one another while being recorded by cameras which projected their faces onto a huge backdrop: the CFT's answer to a Zoom call.
Rising star Erin Doherty swaps Princess Anne in The Crown for a much earthier role and was mesmerising. Whether it was the play or her performance, or both, I do not know, but she felt like the epicentre of the production.
Jonathan Slinger was the other stand-out, delivering a memorably anxiety-inducing monologue about love. Despite his fame, Harry Potter actor Alfred Enoch was surprisingly peripheral, but worked with what he had.
Although the show itself was somewhat triggering, it ended with a comfort blanket: the rapturous applause and cheers that were like a sonic dose of normality.
It was a reminder that, despite the tumult of 2020, we are all in this together.
Thank you to the CFT for their hard work, and I cannot wait to be back again – the sooner, the better.
In person performances until November 4; live stream viewings only until November 7.